Text: Aino Laine, Pakkaus-Lehti
Natural fibre originating from Finnish forests and the paper, cardboard and paperboard products refined from this fibre are produced responsibly with natural circulation in mind. Only the trees needed for pulp production are harvested, and new seedlings are planted to compensate for the felling.
"During this two-hour-long interview, UPM will plant 12,000 new seedlings. This guarantees the availability of high-quality fibre for decades to come," says Tommi Heinonen, Head of Sales, UPM Speciality Papers Europe, Middle East and Africa.
Just a few decades ago, the annual growth of Finnish forests was approximately 50 million cubic metres. Today, the growth has doubled to around 107 million cubic metres, with net growth comprising 20–30 million cubic metres of this figure.
"Finnish forest management is the main reason why our forests are growing and have multiplied in size — and why they are in better condition than ever before. We are also sharing Finnish forest management expertise abroad," says Tommi Heinonen. Heinonen has been working for UPM for 25 years and has a in-depth understanding of the Finnish forestry company's operations.
UPM Speciality Papers mills in Europe supply paper products to three different customer segments: label production, silicone coating, and packaging applications. For the label industry, UPM produces label face paper as well as release base papers; these are processed further by label converters into label release liners. UPM supplies siliconisers with release paper to be used in industrial tapes and other applications for example in the pharmaceutical and personal care industry. Flexible packaging is a global business sector worth more than EUR 200 billion, approximately 15–20% of which is made up of fibre-based flexible packaging products.
Towards a future beyond fossil-based raw materials
UPM produces renewable, recyclable and functional solutions for the packaging industry. In practice, this means sustainable forest use and management as well as designing products that are easy to recycle using existing recycling streams.
"Circular economy should be based on selecting the right raw materials while taking forest regeneration and responsible forest management into account. This is why UPM always plants several seedlings to replace each harvested tree, guaranteeing the continuity of forest growth," explains Heinonen.
Senior Manager Maarit Relander-Koivisto, who manages marketing communications for Speciality Papers Europe and Americas at UPM Stakeholder Relations, reminds us that paper fibre is highly recyclable.
"It is estimated that fibre from paper can be recycled seven times. In reality, this figure is even higher," Relander-Koivisto points out.
The recycling rate of paper in Europe is remarkably high — as much as 70–80%. Heinonen says that such a high rate is thanks to the easy recyclability of paper as well as an existing and highly functional recycling infrastructure. In addition to the usual recycling streams, many companies use their own, closed-cycle systems. UPM is one of those companies: materials are designed so that they are repulpable. Furthermore, the company has developed a unique concept for release liner recycling called UPM LinerLoopTM. In this concept, UPM's own label release paper material is first recovered, then silicone is separated from the material and finally the fibre is recycled and re-used as raw material for new release base papers.
The recyclability of paper is naturally impacted by the use of raw materials other than fibre. Packaging papers consist mainly of fibre — as much as 90% of the product . The remaining 10% is composed of other raw materials that improve the properties of the final material. This, for example, makes fibre packaging very recyclable.
The primary goal is to recycle paper into new paper products, butsome customers are also interested in the compostability of paper. The compostability test standards are very high. If a packaging paper product fails to reach 90% in the test, the product is not necessarily classified as compostable. To compare,the compostability rate of copy paper may be only 50–60% and the products are still considered highly recyclable and the raw materials generally approved.
"In other words, not all paper products are created equal. Regulations would likely clarify this matter," says Heinonen optimistically.
Protecting products and the environment
In addition to recyclability, packaging materials—both fibre-based and others—should contain qualities that provide packaged products the best possible protection. In particular, the requirements for packaging set forth by the food industry push producers of fibre-based packaging to continuously develop new innovations. These innovations aim to, for example, replace plastic without reducing the protective properties of the packaging, such as grease resistance and water vapour barriers.
"UPM does not use plastic lamination in its paper production. We produce paper products that replace plastic and plastic laminated paper in packaging," Relander-Koivisto explains.
UPM provides solutions when protective properties, such as vapour barriers and fat resistance, are required from a packaging product. Good oxygen barriers are more difficult to produce, but they are still achievable.
"Films and plastic lamination make the sorting and processing of packaging after its primary application more difficult. We can improve the recyclability of products if plastic lamination is avoided," Heinonen adds.
Environmentally friendly goals are at the heart of UPM's operations. The company's paper mills already have low emissions and strive to further reduce their CO2 load.
"In general, UPM's forest products bind carbon equivalent to30 years of consumption. In other words, the forest and fibre industry acts as efficient carbon sinks," Heinonen explains.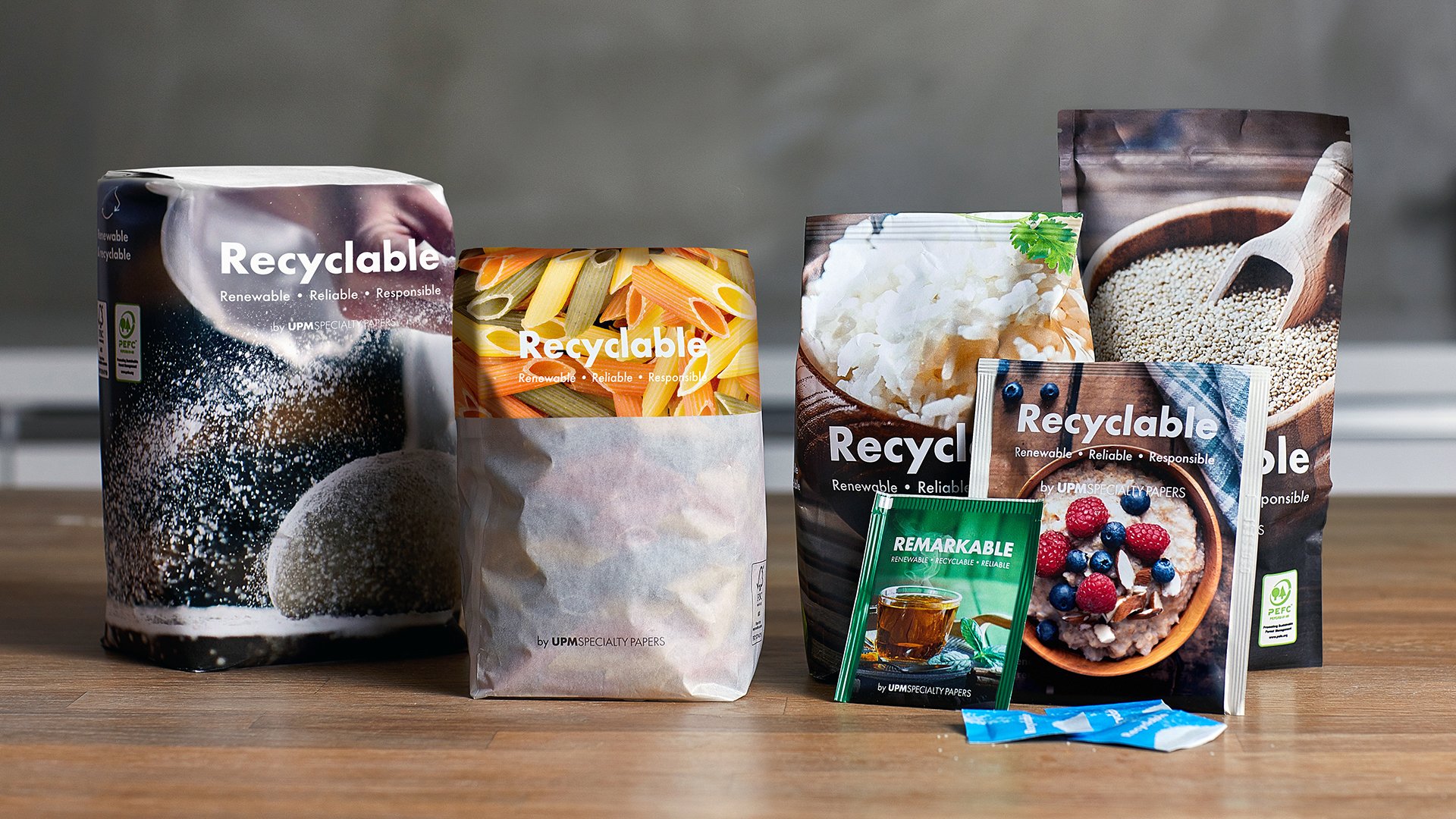 Research with customers for customers
UPM is conducting research and co-operating with different operators to develop and test new solutions constantly and more efficiently than ever. UPM has reserch centres in Lappeenranta, Finland, and in Central Europe. In addition, UPM co-operates closely with various research groups and bodies, such as Keskuslaboratorio KCL. The company is also carrying out an increasing number of joint research projects directly with its customers.

"Retail chains conduct brand and product research, and paper converters conduct packaging research. These parties used to work with us through third-party research centres. Now we communicate with them more often without any intermediaries," Heinonen clarifies.

Part of UPM's research and development work concentrates on developing products that can replace plastic materials. Heinonen points out that there are currently no standard solutions for replacing plastic with paper. However, some of the innovations currently in development may become standard in the future.
Co-creation takes us forward
Heinonen explains that the entire packaging value chain has the responsibility and opportunity to influence the way new products and innovations enter the market. UPM does not want to bypass converters but co-operate with them to provide customers with solutions that are as cost-effective and sustainable as possible. There is no need to do everything yourself. Responsibilities can be divided depending on makes sense and generates results the most efficiently. This partner network is very important to the company.
"Our five-year goal is to be able to produce fibre-based products that can replace even the most challenging plastic – or even aluminised - products. We are working both independently and together with our value network to reach this goal," says Heinonen.
UPM has already introduced products to the market and is actively developing new ones. Regarding non-food packaging, Heinonen highlights the UPM-developed paper wrapping material made for packaging copy paper, which replaces polyethylene laminated ream wrappers.
"The solution improves the water vapour barrier properties of the product. This way the packaging protects the copy paper even in humid conditions. The product is already widely used in Europe. With further processing, we can introduce it in the countries in the Asia Pacific region, for example, where packaging has to be able to withstand the tropical conditions."
Other examples of potential solutions include a moisture-resistant paper wrapping that could replace, for example, the PE-LD plastic found in toilet paper packaging while ensuring product hygiene. Other end-uses could include bars of soap where the paraffin-coated wrapper is replaced with alternative solution. As for corrugated cardboard and paperboard packaging, hundreds of millions of kilograms of plastic is used for coating these products annually. The plastic coating can be replaced with paper-based barrier papers.
The requirements set for the protective properties of food packaging are stricter than those for non-food end-uses. Nevertheless, Heinonen notes that it is important to keep in mind the customers' wishes alongside the barrier discussion. Brands don't just want to ensure the safety and hygiene of their products — they want to make the product packaging attractive and eye-catching too.
"Current solutions often focus on the barrier properties of the interior of the packaging, with the exterior of the packaging receiving less attention during the design process. This might have a negative effect on the print quality of the packaging."
One of UPM's solutions to creating attractive food packaging is a translucent paper that could replace transparent plastics. This material was developed based on existing solutions for label release papers. The paper has great tensile strength and a translucence of 50%. With further processing, the material can reach a translucence of up to 70%.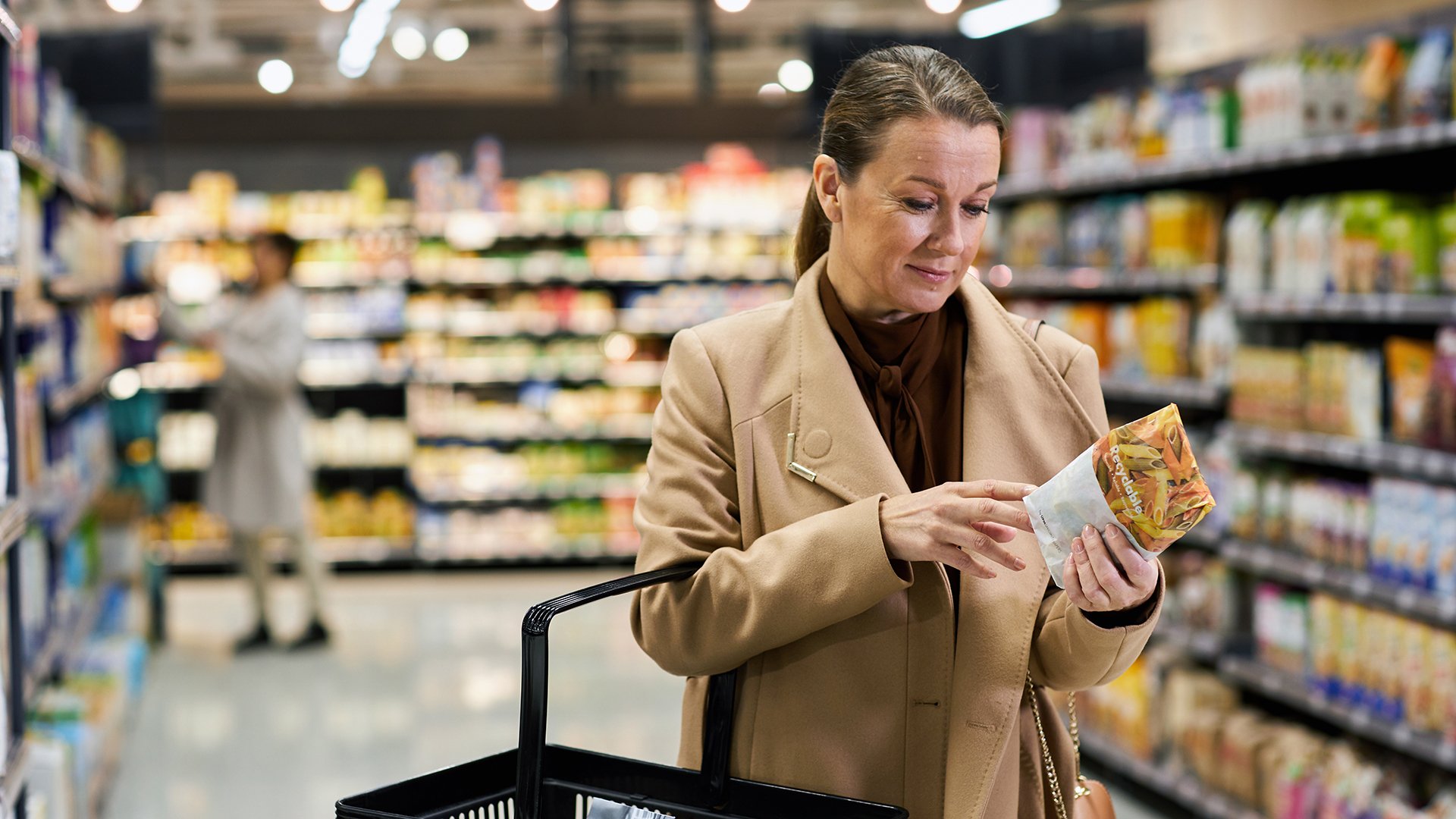 "Let's consider products single-packed in plastic wrapping. Could the secondary plastic packaging be replaced with translucent paper? In that case, the amount of plastic used could be reduced and the product would still be visible with plenty of surface area for printing," Heinonen explains.
As we have learnt, there is a lot of momentum in the development of both food packaging and non-food packaging. Behind all this innovation and development work, UPM is also focusing on the basics: fresh seedlings are always planted when trees are harvested for the paper industry. The cycle goes on to provide pulpwood also for the generations to come.
Article originally appeared in Pakkaus-lehti, issue 03/2020 "Vastuullinen metsänhoito on kaiken perusta"