UPM Specialty Papers, Lantmännen Unibake and Adara have co-created a new fibre-based packaging that replaces plastic bags as primary packaging for frozen baked goods. To minimize the use of fossil-based materials, the companies joined forces to create a solution where the plastic bags were eliminated by using UPM Asendo™ barrier paper as an inner liner in the corrugated cardboard box; the barrier paper layer ensures food safety and freshness.
"The partnership with Lantmännen Unibake and Adara opened the opportunity to unite our expertise across the food packaging value network to create a renewable and recyclable packaging solution for frozen bread. Lantmännen Unibake and a third-party food industry development company conducted thorough testing and analysis on the impact of packaging materials on the taste of the frozen bread; as a result UPM Asendo was chosen as the inner liner for the cardboard box. The food safe UPM Asendo barrier paper layer has proven to offer the grease and moisture resistance needed while ensuring food safety," says Kirsi Lahtela, Product Manager, UPM Specialty Papers.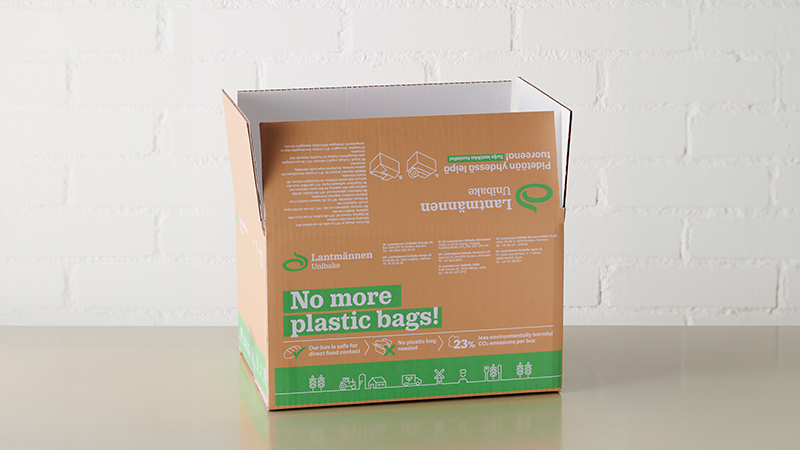 Frozen baked goods require packaging that offers light grease and moisture resistance, while maintaining the freshness of the baked goods inside. Lantmännen Unibake, one of Europe's largest bakery groups, specialising in frozen bakery products for retail and food service, is actively searching for more sustainable solutions for packaging and transporting frozen bakery products.
"We are eager to drive innovations in our industry and find more sustainable packaging solutions. This new packaging innovation for frozen bakery products could not have been created without UPM Specialty Papers and Adara; it is a great example of how we can reduce the use of plastic in food packaging by working together with industry partners," says Riikka Salokannel, Packaging Development Manager, Lantmännen Unibake Finland.
Adara is a manufacturer of corrugated cardboard and corrugated packaging that considers sustainability a core value in all operations and everyday work, the other core values being quality, flexibility and efficiency.
"It has been great working in a project where the goal has been to co-create a more sustainable packaging solution for baked goods, taking the whole value chain into consideration. The learnings from this project can be applied to other product categories in the future," highlights Mikko Järvinen, Manufacturing and Development Manager, Adara.
UPM Asendo™ is a recyclable as well as home and industrially compostable barrier paper with good grease and moisture resistance, that is safe for direct contact with food. It is especially well-suited for dry, chilled and frozen foods, bread bags, as well as non-food wrapping. Learn more about UPM Asendo.
For further information please contact:
Maarit Relander, Senior Manager, Marketing, UPM Specialty Papers, +358 204 15 0223
Salla Eklund, Marketing and Innovation Director, Lantmännen Unibake Finland, puh. +358 40 593 2664
Matti Sappinen, Account Manager, Adara Pakkaus, matti.sappinen@adara.fi
Link to images: https://materialhub.upm.com/l/PZQC8jMZtSR5
UPM, Media Relations
Mon-Fri 9:00–16:00 EEST
tel. +358 40 588 3284
media@upm.com
UPM Specialty Papers  
UPM Specialty Papers answers the world's need for sustainable products with high-performance, transformative papers for packaging and labelling, and sustainable office and graphic papers in APAC. Our approximately 2,000 dedicated experts help customers co-create solutions to their business challenges. UPM Specialty Papers' global team and mills in China, Finland and Germany serve customers consistently and reliably around the world. 
Find out how our products are special by nature at upmspecialtypapers.com 
  
Follow UPM Specialty Papers on LinkedIn .
UPM
We deliver renewable and responsible solutions and innovate for a future beyond fossils across six business areas: UPM Fibres, UPM Energy, UPM Raflatac, UPM Specialty Papers, UPM Communication Papers and UPM Plywood. As the industry leader in responsibility, we are committed to the UN Business Ambition for 1.5°C and the science-based targets to mitigate climate change. We employ 17,200 people worldwide and our annual sales are approximately EUR 11.7 billion. Our shares are listed on Nasdaq Helsinki Ltd. UPM Biofore – Beyond fossils. www.upm.com
Follow UPM on X | LinkedIn | Facebook | YouTube | Instagram | #UPM #biofore #beyondfossils 
Lantmännen Unibake
Lantmännen Unibake is a leading international bakery company with strong roots in local baking. With expertise in bakery products for food service and retail, we exist to deliver healthy, sustainable bakery products based on excellent food safety standards to consumers all over the world. Headquartered in Copenhagen, Denmark, Lantmännen Unibake operates multiple modern bakeries around the world and has sales in more than 50 countries. Our brand portfolio comprises a range of well-established B2B and B2C brands e.g. Vaasan, Myllyn Paras, Schulstad, Bonjour, Pastridor and Hatting. Lantmännen Unibake has a turnover of EUR 1.3 billion and employs more than 6,000 people in 20+ countries. Part of Lantmännen Group, we are farmer-owned and founded in the Nordics. Appetite for more? Visit us at www.lantmannenunibake.fi/
Adara Pakkaus
Adara Pakkaus is a Finnish manufacturer of corrugated board and packaging. The factory is located in Valkeakoski where the company has operated since the 1930s. Adara manufactures wood-based & recyclable packaging solutions in a flexible, efficient and responsible way. Adara's reliability ensures long-term customer relationships.
www.adara.fi

You can also find Adara Pakkaus on LinkedIn!