UPM Specialty Papers and adhesive tape specialist Lohmann have partnered to promote recycling of paper liners in the tape industry.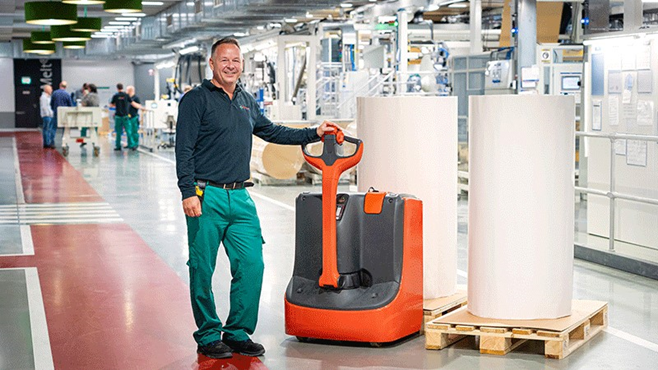 Until now, liner recycling in the tape industry has proven to be very difficult. As part of its own sustainability strategy of driving forward sustainable adhesive technologies, Lohmann saw the opportunity to spearhead design for recycling in the tapes industry. The collaboration builds on UPM LinerLoop, which is the pioneering closed-loop paper liner recycling solution launched in 2018.
For adhesive tape liners, the greatest technical barrier to high-yield recycling is that the industry has traditionally used siliconized release liners with a darker brown shade. As the typical shade of glassine is white or some other light shade, recycling darker coloured glassine grades in the same stream would contaminate the recycled pulp. Darker shades are comparatively small in volume so recycling them separately is not economically viable.
From a functional perspective, the performance of lighter shades have to match the performance of darker shades. High-performing white liners were already available from UPM and even other suppliers, which is why Lohmann introduced its biobased and solvent-free tapes, DuploCOLL® ECO, with the new white paper liner to facilitate recycling with the highest possible value.
Solutions such as UPM LinerLoop and other established paper and paperboard recycling streams offer a drop-in solution for meeting Lohmann's target of improving the recyclability of liner waste. Lohmann is pursuing various measures to reduce waste, increase the reusability of packaging as well as the number of recyclable products and product components. The aim here is to minimize the consumption of primary resources while keeping the fibres in the recycling loop for as long as possible.
"We are delighted to have been able to support Lohmann in removing the obstacles for recycling of paper liners in the tape industry", says Mikko Rissanen, Director, Technology at UPM Specialty Papers.
After working closely with UPM Specialty Papers, Lohmann has seen a positive response from customers - who have themselves identified a new opportunity to reinforce their own sustainability targets.
"We were aware that the recycling of liners needs to be on our sustainability action plan. We wanted to make the first move and set a new standard for our industry and now, in cooperation with UPM Specialty Papers, we hope that others in the tape industry will follow suit and promote sustainability as a collective," explains Evert Smit, Director Scouting at Lohmann.
For UPM Specialty Papers, designing products for recycling and working together with the industry to build robust recycling infrastructure for paper products is a priority.
For further information please contact:
Mikko Rissanen, Director, Technology UPM Specialty Papers, tel. +358 20 415 0684
Evert Smit, Director Scouting, Lohmann GmbH & Co. KG, tel. +49 2631 34 66 31
UPM, Media Relations
Mon-Fri 9:00-16:00 EET
tel. +358 40 588 3284
media@upm.com
Link to images: https://materialhub.upm.com/l/7qkxNNGzV7Mf 
UPM Specialty Papers 
UPM Specialty Papers answers the world's need for sustainable products with high-performance, transformative papers for packaging and labelling, and sustainable office and graphic papers in APAC. Our approximately 2,000 dedicated experts help customers co-create solutions to their business challenges. UPM Specialty Papers' global team and mills in China, Finland and Germany serve customers consistently and reliably around the world.
Find out how our products are special by nature at upmspecialtypapers.com
Follow UPM Specialty Papers on LinkedIn
UPM  
We deliver renewable and responsible solutions and innovate for a future beyond fossils across six business areas: UPM Fibres, UPM Energy, UPM Raflatac, UPM Specialty Papers, UPM Communication Papers and UPM Plywood. As the industry leader in responsibility, we are committed to the UN Business Ambition for 1.5°C and the science-based targets to mitigate climate change. We employ 17,200 people worldwide and our annual sales are approximately EUR 11.7 billion. Our shares are listed on Nasdaq Helsinki Ltd. UPM Biofore – Beyond fossils. www.upm.com  
Follow UPM on X | LinkedIn | Facebook | YouTube | Instagram | #UPM #biofore #beyondfossils 
About Lohmann
Founded in 1851, the family-owned company Lohmann GmbH & Co KG is considered a specialist in adhesive bonding technology. With annual sales of around 349 million euros, more than 1,800 employees in 27 sites and exclusive sales partners in over 50 countries, Lohmann is active around the globe. The headquarters are located in Neuwied, Germany. 
The company offers high-tech adhesive solutions for applications primarily in the automotive, construction & architecture, consumer goods, electronics and graphical industries. Lohmann engineers' solutions range from multifunctional adhesive tapes to precision die-cut parts and process integration. 
Follow Lohmann on LinkedIn | Facebook | YouTube | Instagram | #lohmann #wemakeitgreen