Working in partnership with Fiorini Packaging, the specialist manufacturer of industrial paper sacks, UPM Specialty Papers has co-created a sustainable, fibre-based sack suitable for pet food applications of up to 20 kg. Already available to order from Fiorini, a sample of the new sack will be showcased on the UPM Specialty Papers stand at Interpack 2023.

Pet food can be challenging to pack because it has high levels of grease. Standard papers typically used for pet food packaging are unable to offer the required level of grease and moisture resistance. In addition, 20kg pet food sacks need to be strong, creating a need for reinforcement and the possibility to resist external weather conditions. Until now, plastic laminated paper has been usually used to provide the required level of strength and barrier qualities.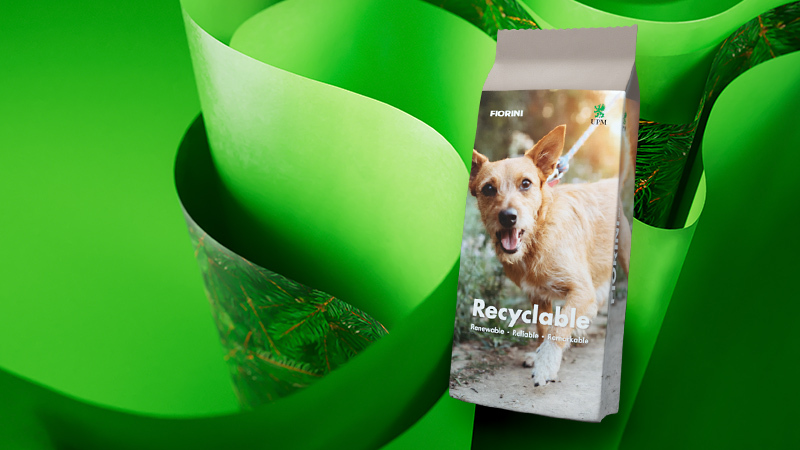 Strength with sustainability
"In this partnership with UPM Specialty Papers, we wanted to find a solution without using plastic laminates. The answer came in a unique composition that incorporated our Moistshield® technology in a double layer of paper on the inside, supported by an additional UPM AsendoTM Pro barrier paper layer on the outside for grease resistance. This new solution is completely PFAS free; often PFASs – or forever chemicals – are needed to achieve the desired grease barriers," says Giovanni Fiorini, Fiorini President & CEO.
UPM Asendo™ Pro is a recyclable, coated two side barrier paper that provides excellent grease resistance in addition to medium moisture resistance and a mineral oil barrier. It is PFAS free and proven to be safe for direct contact with food and is used for a wide range of end-uses, from dry and greasy foods and bakery goods to frozen food packaging.
Developed in its own R&D labs, Fiorini Moistshield® is a high-tech solution that offers water-repellent properties without the need for plastic laminates. Moistshield® technology has a high surface tension that allows the water to slip away rather than being retained by the paper. This offers two advantages: a greater barrier effect compared to a standard paper sack with plastic film, extending the shelf life of the product inside. Because it is recyclable, it offers a sustainable alternative to conventional solutions.
The power of partnership
The partnership with UPM Specialty Papers opened the opportunity to combine these qualities with the high grease resistance offered by UPM Asendo™ Pro.
"We realised that, by uniting our technologies, we could create a new paper-based sack that could offer similar levels of moisture and grease resistance as a conventional sack with a plastic laminate layer, or even higher," explains Marco Tramontano, Sales Director Italy at UPM Specialty Papers. "By using UPM Asendo™ Pro as an additional high grease resistance barrier for the external layer, this innovation has boosted existing MoistShield properties while also offering an excellent print surface".
The result is a recyclable, fibre-based animal nutrition sack that can be recycled in existing fibre recycling streams while offering the strength and resistance to moisture and grease associated with plastic laminates.
"For us it is important to work with other innovative leaders in their fields like UPM who not only understand what is possible, but also share our DNA when it comes to creating more sustainable concepts," explains Giovanni Fiorini. "We had already developed an effective product against humidity and water. By adding grease-resistance too, we have an opportunity to offer customers a sustainable alternative they may not have even considered before."
Visit UPM Specialty Papers stand F29 in hall 8A at Interpack 2023 to view a sample of the new sack.
For further information please contact:
Maarit Relander, Senior Manager, Stakeholder Relations, UPM Specialty Papers, +358 204 15 0223
Link to images: https://materialhub.upm.com/l/qLsXNSwwrRWP
UPM, Media Relations
Mon-Fri 9:00-16:00 EEST
tel. +358 40 588 3284
media@upm.com
UPM Specialty Papers
At UPM Specialty Papers, we create transformative materials for packaging based on paper. Our 2,000 passionate experts are ready to help you co-create the right packaging solutions for your needs and meet your sustainability goals. Best of all, our papers are produced with renewable, responsibly sourced wood fibres. And with our mills in Finland, China, and Germany, you can trust us to deliver quality and consistency wherever you are in the world.
Find out how UPM brings power to your purpose at upmspecialtypapers.com
Follow UPM Specialty Papers on LinkedIn
UPM
We deliver renewable and responsible solutions and innovate for a future beyond fossils across six business areas: UPM Fibres, UPM Energy, UPM Raflatac, UPM Specialty Papers, UPM Communication Papers and UPM Plywood. As the industry leader in responsibility, we are committed to the UN Business Ambition for 1.5°C and the science-based targets to mitigate climate change. We employ 17,200 people worldwide and our annual sales are approximately EUR 11.7 billion. Our shares are listed on Nasdaq Helsinki Ltd. UPM Biofore – Beyond fossils. www.upm.com
Follow UPM on Twitter | LinkedIn | Facebook | YouTube | Instagram | #UPM #biofore #beyondfossils