Working closely with partners from across the food packaging value network, UPM Specialty Papers is co-creating transformative solutions that reimagine the future of sustainable packaging. A long-standing relationship with Henkel, a worldwide leader in industrial and consumer businesses, has now resulted in a recyclable, heat-sealable packaging material compatible with existing packaging lines. Pushing the performance of barrier papers to an unsurpassed level of grease resistance, it offers a tried and tested concept for converters.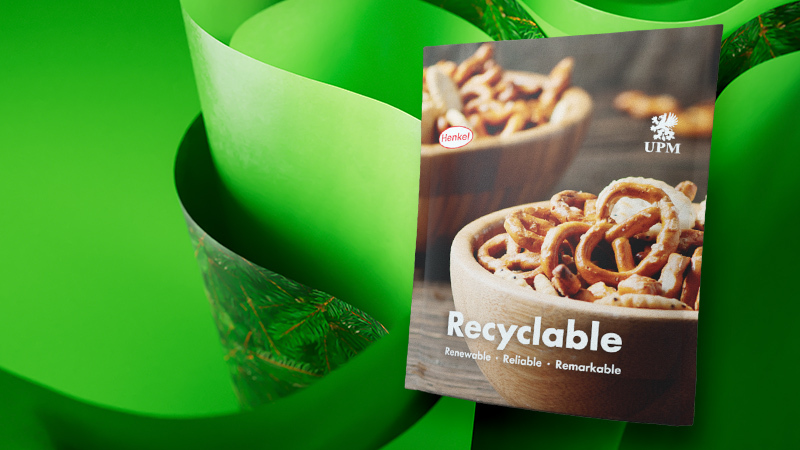 Reinventing the seal
The plastic coating traditionally required for protection and heat-sealing renders the final product difficult to recycle. Inspired by a shared focus on creating sustainable alternatives, UPM Specialty Papers and Henkel have reinvented the concept to help brand owners and converters meet ever growing consumer and regulatory demands for easy to recycle packaging.
"In line with our 2030 sustainability ambitions, our water-based LOCTITE LIOFOL HS 2809-22 RE heat seal and AQUENCE EPIX BC 6134 grease barrier coatings are easy to recycle, helping to recover more fibres and supporting a more circular economy. Together with UPM Specialty Papers, we have moved one step closer to bridging the gap between sustainable fibre-based packaging and traditional plastic packaging to support brand owners and converters in the transition to paper," says Christin Noack, Market Strategy Manager Paper Solutions at Henkel.
Progress through partnership
Existing UPM Asendo™ and UPM Asendo™ Pro barrier papers provided the starting point. These recyclable barrier papers are produced with fibres from sustainably managed forests and offer grease and moisture resistance without the need for a plastic coating.
The partnership then set out to push the limits of performance to create food-safe, heat-sealed, paper-based packaging that can be recycled in existing fibre recycling streams. This is where Henkel's expertise came into play with the optimization of its pioneering coatings specifically for the UPM papers, reinforcing their original barrier properties to offer unmatched levels of grease resistance.
"Barrier and heat seal coatings behave differently on different paper substrates, so finding the best combination of paper substrate, coating, and optimum application can be tricky," explains Christin Noack. "We fine-tuned our heat seal and grease barrier coatings over a number of trials and a lengthy development process. Together with UPM, we have developed innovative coatings products that enable paper to reach new and unmatched barrier performance levels."
The resulting high performance packaging concept is ideal for a wide range of dry foods that require grease resistance, such as party snacks and bread sticks – both of which will be available as samples at Interpack.
A template for the future
"This solution demonstrates what we can achieve with co-created fibre-based materials. Packaging converters can select from a ready tested and approved 'off-the shelf' combination of paper and coatings, quickly finding the right solutions for their end-use without the need for trial and error. For brand owners, it represents yet another co-created product aimed at supporting the transition from fossil-based materials to renewable, recyclable packaging," says Mika Uusikartano, Senior Manager, Product Portfolio Management at UPM Specialty Papers.
Visitors can learn more about the packaging concept at the UPM Specialty Papers' stand during Interpack 2023. Find us in Hall 8, Stand 29.
For further information please contact:
Maarit Relander, Senior Manager, Stakeholder Relations, UPM Specialty Papers, +358 204 15 0223
Link to images: https://materialhub.upm.com/l/D5R_SBcvcDVD
UPM, Media Relations
Mon-Fri 9:00-16:00 EEST
tel. +358 40 588 3284
media@upm.com
UPM Specialty Papers
At UPM Specialty Papers, we create transformative materials for packaging based on paper. Our 2,000 passionate experts are ready to help you co-create the right packaging solutions for your needs and meet your sustainability goals. Best of all, our papers are produced with renewable, responsibly sourced wood fibres.
And with our mills in Finland, China, and Germany, you can trust us to deliver quality and consistency wherever you are in the world.
Find out how our products are special by nature at upmspecialtypapers.com
Follow UPM Specialty Papers on LinkedIn
UPM
We deliver renewable and responsible solutions and innovate for a future beyond fossils across six business areas: UPM Fibres, UPM Energy, UPM Raflatac, UPM Specialty Papers, UPM Communication Papers and UPM Plywood. As the industry leader in responsibility, we are committed to the UN Business Ambition for 1.5°C and the science-based targets to mitigate climate change. We employ 17,200 people worldwide and our annual sales are approximately EUR 11.7 billion. Our shares are listed on Nasdaq Helsinki Ltd. UPM Biofore – Beyond fossils. www.upm.com
Follow UPM on Twitter | LinkedIn | Facebook | YouTube | Instagram | #UPM #biofore #beyondfossils
About Henkel
With its brands, innovations and technologies, Henkel holds leading market positions worldwide in the industrial and consumer businesses. The business unit Adhesive Technologies is the global leader in the market of adhesives, sealants and functional coatings. With Consumer Brands, the company holds leading positions especially in hair care and laundry & home care in many markets and categories around the world. The company's three strongest brands are Loctite, Persil and Schwarzkopf. In fiscal 2022, Henkel reported sales of more than 22 billion euros and adjusted operating profit of around 2.3 billion euros. Henkel's preferred shares are listed in the German stock index DAX. Sustainability has a long tradition at Henkel, and the company has a clear sustainability strategy with concrete targets. Henkel was founded in 1876 and today employs a diverse team of more than 50,000 people worldwide – united by a strong corporate culture, shared values and a common purpose: "Pioneers at heart for the good of generations." More information at www.henkel.com