UPM has today joined The Climate Pledge, a cross-sector community of world-class companies working together to crack the climate crisis and to decarbonise our economy. These companies are committed to reach the targets of the Paris Agreement well in advance. The Climate Pledge was co-founded by Amazon and the Global Optimism.
"UPM creates value by providing solutions for a future beyond fossils. We are proud to be the first forest industry company who has been invited to join The Climate Pledge and the network of global sustainability leaders," says Jussi Pesonen, President and CEO at UPM.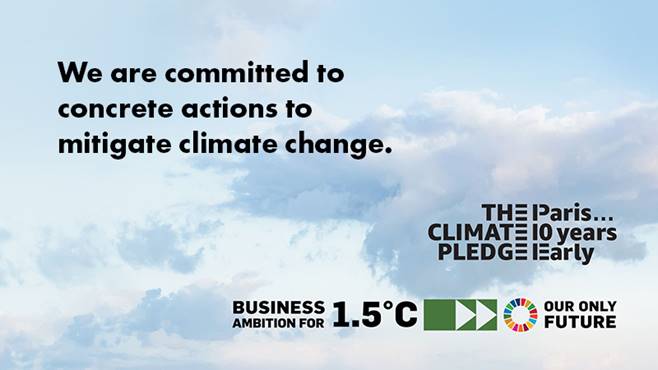 As a signatory of Climate Pledge UPM will
Measure and report greenhouse gas emissions on a regular basis
Implement decarbonisation strategies in line with the Paris Agreement through real business changes and innovations, including efficiency improvements, renewable energy, materials reductions, and other carbon emission elimination strategies
Neutralise any remaining emissions to achieve net-zero annual carbon emissions by 2040 — a decade ahead of the Paris Agreement's goal of 2050
"As the U.S. takes an important step forward in the fight against climate change by officially rejoining the Paris Agreement this week, I am excited to welcome 20 new companies to The Climate Pledge who want to go even faster," says Jeff Bezos, Amazon founder and CEO. "Amazon co-founded The Climate Pledge in 2019 to encourage companies to reach the goals of the Paris Agreement 10 years early, and we're seeing incredible momentum behind the pledge with 53 companies from 18 industries across 12 countries already joining. Together, we can use our collective scale to help decarbonize the economy and preserve Earth for future generations."
Signing this pledge is a natural next step on UPM's climate roadmap. In January 2020, the company committed to the UN Business Ambition for 1.5°C with a promise to pursue science-based measures to limit global temperature rise to 1.5°C. UPM's goal is to mitigate climate change and drive value creation through innovating novel products, by practicing sustainable forestry and committing to -65% CO2 emission reduction target by 2030. This target is approved by The Science Based Target initiative.
By joining two highly esteemed global networks, UPM wants to take an active role in driving the change and to collaborate with scientific and other partners to reach highest possible positive impact on climate and people.
For further information please contact:
Sami Lundgren, VP, Responsibility, UPM, tel. +358 40 5800 910
Visit www.theclimatepledge.com.
UPM, Media Relations
Mon-Fri 9:00-16:00 EET
tel. +358 40 588 3284
media@upm.com
UPM
We deliver renewable and responsible solutions and innovate for a future beyond fossils across six business areas: UPM Biorefining, UPM Energy, UPM Raflatac, UPM Specialty Papers, UPM Communication Papers and UPM Plywood. As the industry leader in responsibility we are committed to the UN Business Ambition for 1.5°C and the science-based targets to mitigate climate change. We employ 18,000 people worldwide and our annual sales are approximately EUR 8.6 billion. Our shares are listed on Nasdaq Helsinki Ltd. UPM Biofore – Beyond fossils. www.upm.com
Follow UPM on Twitter | LinkedIn | Facebook | YouTube | Instagram | #UPM #biofore #beyondfossils
The Climate Pledge
In 2019, Amazon and Global Optimism co-founded The Climate Pledge, a commitment to reach the Paris Agreement 10 years early and be net-zero carbon by 2040. 53 organizations have now signed The Climate Pledge, sending an important signal that there will be rapid growth in demand for products and services that help reduce carbon emissions. For more information visit www.theclimatepledge.com.