To offer our customers a full portfolio of packaging papers, UPM Specialty Papers has launched UPM SolideTM, a family of kraft papers that feature a versatile combination of strength as well as converting properties. All grades in the portfolio offer excellent printability to maximise the shelf impact of packaging. All papers in the UPM SolideTM family are recyclable in regular paper recycling stream.

"UPM has made a commitment to novel climate positive innovations. The UPM SolideTM kraft papers are produced using 100% renewable and strong fibres from sustainably managed forests" highlights Dirk Ryckaert, Sales Director, UPM Specialty Papers.
"UPM Solide Lucent, for example, is a new translucent paper that offers a great alternative to plastics even on fast packaging lines where runnability is key" continues Ryckaert. "Our committed team of experts are ready to explore how the UPM Solide product family can be applied to your end-uses". 
Ensuring the safety of packaged products is a shared responsibility. UPM takes product safety very seriously and we do our utmost to ensure our papers are safe to use. Our product safety systems cover the entire manufacturing process from the procurement of raw materials to the delivery of end products.
The UPM SolideTM products are certified as safe for direct food contact. The products have received approval from the US Food and Drug Administration (FDA) and The German Federal Institute for Risk Assessment (BfR). In addition, mills producing UPM specialty papers are certified according to ISO 22000 food management systems. The product range also offers alternatives that are free from optical brighteners.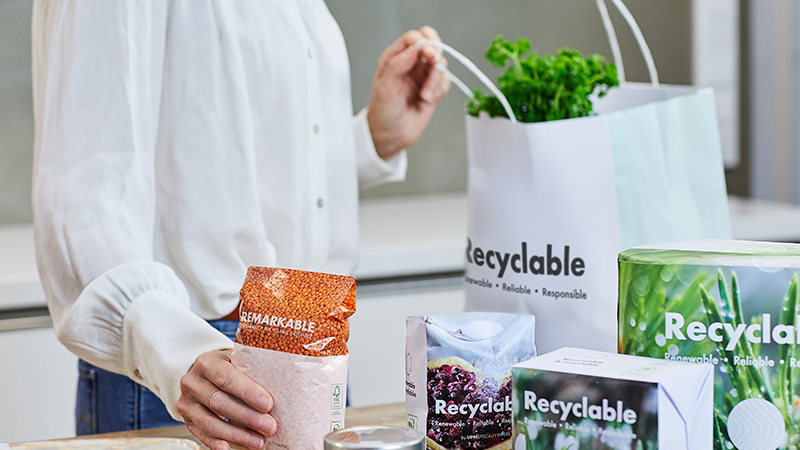 UPM Solide product family
The UPM Solide portfolio offers a broad range of kraft papers to choose from, with substance ranging from 45 g/m2 up to 90 g/m2. Samples and trial reels of the UPM Solide portfolio are available.
UPM SolideTM combines high strength and good printability.
UPM SolideTM Smooth offers high printability with good strength. Excellent choice when you need the visuals of your product to make an impact.
UPM SolideTM Strong offers excellent strength and good printability. The paper is free from optical brighteners, making it an excellent choice when you are looking to convey your natural image.
UPM SolideTM Lucent is a natural white translucent paper with high strength properties. The smooth surface offers good printability and convertability.
Read more about the UPM SolideTM portfolio of papers.
UPM SolideTM end-use video
For further information please contact:
Maarit Relander-Koivisto, Senior Manager, Stakeholder Relations, UPM Specialty Papers, +358 204 15 0223
UPM, Media Relations
Mon-Fri 9:00-16:00 EET
tel. +358 40 588 3284
media@upm.com
UPM SPECIALTY PAPERS
UPM Specialty Papers produces labelling and packaging materials to global markets and fine papers to Asian markets. Its main customers are paper converters, distributors, retailers and printers. UPM Specialty Papers is an industry leader in sustainable development. Its high performance papers are produced in Finland and China. UPM Specialty Papers employs approximately 2,000 people globally. www.upmspecialtypapers.com
UPM
We deliver renewable and responsible solutions and innovate for a future beyond fossils across six business areas: UPM Biorefining, UPM Energy, UPM Raflatac, UPM Specialty Papers, UPM Communication Papers and UPM Plywood. As the industry leader in responsibility we are committed to the UN Business Ambition for 1.5°C and the science-based targets to mitigate climate change. We employ 18,700 people worldwide and our annual sales are approximately EUR 10.2 billion. Our shares are listed on Nasdaq Helsinki Ltd. UPM Biofore – Beyond fossils. www.upm.com
Follow UPM on Twitter | LinkedIn | Facebook | YouTube | Instagram | #UPM #biofore #beyondfossils