UPM Specialty Papers is responding to the growing pet food market's need to transform traditional packaging solutions by offering paper-based alternatives for plastics and packages that contain soon to be phased out PFAS chemicals.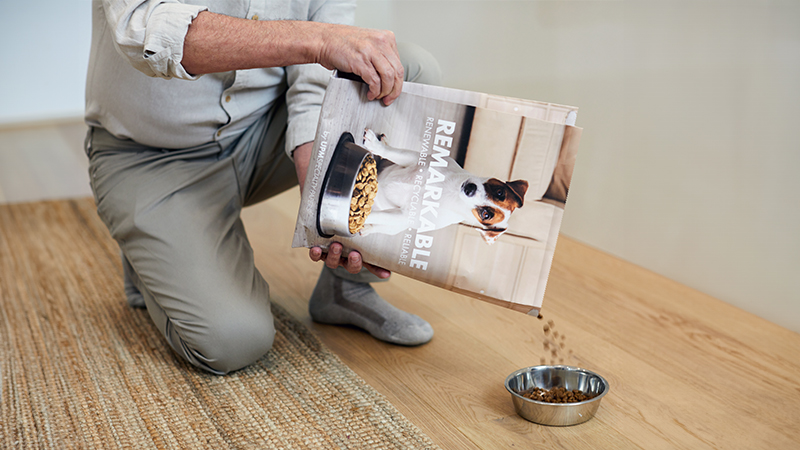 PFAS chemicals, also known as forever chemicals, are often used to achieve grease resistance that is an important requirement for pet food packaging. However, PFAS chemicals are harmful to health, and are therefore being phased out with regulation. For example, the upcoming EU Packaging and Packaging Waste Regulation (PPWR) is expected to prohibit companies from bringing packaging products containing PFAS chemicals to the market.
"As PFAS chemicals are expected to be banned in the EU, UPM Specialty Papers can support converters and brand owners in this change. UPM's barrier papers can achieve excellent grease resistance without the use of PFAS chemicals," says Kalle Luomi, Senior Manager, Product Stewardship, UPM Specialty Papers.
Depending on customer requirements, the company offers a wide range of packaging papers for pet food packaging. One example is the UPM Asendo™ Pro barrier paper that combines recyclability and grease resistance with excellent print properties.
UPM Specialty Papers and partners in the packaging value network can also together co-create packaging solutions that help customers meet their goals such as food safety, recyclability, and other needs. For example, strength is also a necessary feature for pet food packaging that not only needs to endure logistics but also contents that weigh up to 20 kg.
"Great packaging protects what is being sold, but it also sells the product it protects," Marco Tramontano, Sales Director, UPM Specialty Papers says. "People love their pets: they want to know that their best friend gets the same quality that they do. That's why we are pleased to offer pet food brands food-safe packaging that also ensures the shelf appeal of their products – and reduces plastic."
Order a sample: https://www.upmspecialtypapers.com/campaigns/new-breed-of-packaging/
For further information please contact:
Maarit Relander, Senior Manager, Marketing, UPM Specialty Papers, +358 2041 50223
Link to images: https://materialhub.upm.com/l/qt6LBSDxbPzb
UPM, Media Relations
Mon-Fri 9:00–16:00 EET
tel. +358 40 588 3284
media@upm.com
UPM Specialty Papers
UPM Specialty Papers answers the world's need for sustainable products with high-performance, transformative papers for packaging and labelling, and sustainable office and graphic papers in APAC. Our approximately 2,000 dedicated experts help customers co-create solutions to their business challenges. UPM Specialty Papers' global team and mills in China, Finland and Germany serve customers consistently and reliably around the world.
Find out how our products are special by nature at upmspecialtypapers.com
Follow UPM Specialty Papers on LinkedIn
UPM 
We deliver renewable and responsible solutions and innovate for a future beyond fossils across six business areas: UPM Fibres, UPM Energy, UPM Raflatac, UPM Specialty Papers, UPM Communication Papers and UPM Plywood. As the industry leader in responsibility, we are committed to the UN Business Ambition for 1.5°C and the science-based targets to mitigate climate change. We employ 17,200 people worldwide and our annual sales are approximately EUR 11.7 billion. Our shares are listed on Nasdaq Helsinki Ltd. UPM Biofore – Beyond fossils. www.upm.com 
Follow UPM on X | LinkedIn | Facebook | YouTube | Instagram | #UPM #biofore #beyondfossils