UPM Specialty Papers' heat-sealable barrier papers have achieved excellent results in tests carried out with Koenig & Bauer's next generation of inkjet digital printing technology. This is good news for brand owners and converters interested in surpassing the limitations of conventional printing methods in order to accelerate time to market or to create more customized packaging.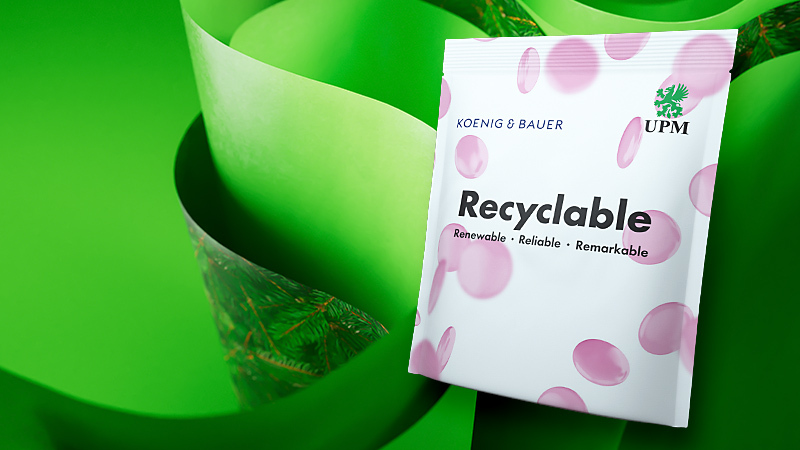 Testing new ground
With the ability to change designs simply by updating a file, digital printing opens new possibilities for brand owners and converters – from accelerating time to market through to creating more customized packaging. The goal was to test and optimize the compatibility of digital printing for UPM Specialty Papers' barrier papers for digital printing, as it would offer a powerful combination for transforming how flexibly even small batches of packages can be produced.
"Our goal was to produce samples of a real-world product," says Falko Baltrusch, Senior Manager at the Koenig & Bauer Customer Technology Center. "This co-creation was ideal, combining the paper and processing expertise of UPM Speciality Papers with our knowledge of machines, inks, temperatures and so on. This enabled us to control the whole process to see if the papers were printable and, if so, make sure that the print was of the right quality. We achieved both goals."
The companies agreed to run the tests on UPM Confidio™, UPM Asendo™, and UPM Prego™ barrier paper families, which offer a variety of different coated and uncoated surfaces. The tests also allowed UPM Specialty Papers to trial their barrier papers on digital printing technology since packaging is traditionally printed with flexo, rotogravure, or offset methods, which require high volume runs.
The perfect match
As a globally active printing press manufacturer, Koenig & Bauer is looking to the future with the development of its RotaJET inkjet printing press, a highly flexible digital printing system capable of working with numerous different substrates and applications.
The RotaJET uses GMP (Good Manufacturing Produced) water-based polymer pigment inks, which are Swiss ordinance compliant. Digital printing also involves far less time and effort invested in creating printing plates or cylinders. This translates into a more efficient, more flexible, and far more effortless process.
"Given the limitations of conventional print methods, we were very keen to see how our barrier papers performed on the RotaJET printing press," says Markus Kamphuis, Technical Sales Manager, UPM Specialty Papers. "The results were extremely successful from the beginning. UPM Confidio™ incorporates an additional heat seal function, so it was also important to find out if the temperatures for drying ink would activate the sealing function or change the colours of the design. Neither was an issue, and the colours were really sharp and vivid. Our papers matched perfectly – it was simply a matter of setting the parameters, optimising the system, then printing. It just worked!"
Real world samples. A whole a new world of opportunity.
This level of flexibility, combined with food safe heat-sealable barrier packaging, opens up virtually endless possibilities to brand owners. "This kind of flexibility allows brand owners to meet legal requirements for higher levels of traceability and localised packaging materials – as well as develop highly customized packaging. Take the final of the Superbowl or the Champions League for example," explains Falko Baltrusch. "You can wait until the last minute to print the packaging when you know which teams are in the final. And they can do all this while also making the transition to fibre-based materials, meeting their sustainability goals."
A recyclable alternative to laminates
UPM Confidio™, UPM Asendo™, and UPM Prego™ barrier paper families are easy to recycle in existing fibre recycling streams. And now, they have been proven compatible with inkjet print technology and ready to take advantage of the benefits on offer. Samples of the end result will be available from UPM on Stand 29, Hall 8A during Interpack 2023.
For further information please contact:
Maarit Relander, Senior Manager, Stakeholder Relations, UPM Specialty Papers, +358 204 15 0223
Link to images: https://materialhub.upm.com/l/BFkdn57TRZRx
UPM, Media Relations
Mon-Fri 9:00-16:00 EEST
tel. +358 40 588 3284
media@upm.com
Koenig & Bauer, Media Relations
Colin Harding
tel. +44 7730 435400
info@shawcommunications.co.uk
UPM Specialty Papers
At UPM Specialty Papers, we create transformative materials for packaging based on paper. Our 2,000 passionate experts are ready to help you co-create the right packaging solutions for your needs and meet your sustainability goals. Best of all, our papers are produced with renewable, responsibly sourced wood fibres.
And with our mills in Finland, China, and Germany, you can trust us to deliver quality and consistency wherever you are in the world.
Find out how UPM brings power to your purpose at upmspecialtypapers.com
Follow UPM Specialty Papers on LinkedIn
UPM
We deliver renewable and responsible solutions and innovate for a future beyond fossils across six business areas: UPM Fibres, UPM Energy, UPM Raflatac, UPM Specialty Papers, UPM Communication Papers and UPM Plywood. As the industry leader in responsibility, we are committed to the UN Business Ambition for 1.5°C and the science-based targets to mitigate climate change. We employ 17,200 people worldwide and our annual sales are approximately EUR 11.7 billion. Our shares are listed on Nasdaq Helsinki Ltd. UPM Biofore – Beyond fossils. www.upm.com
Follow UPM on Twitter | LinkedIn | Facebook | YouTube | Instagram | #UPM #biofore #beyondfossils
About Koenig & Bauer
Koenig & Bauer is a globally active printing press manufacturer with headquarters in Würzburg (Germany). It supplies machines and software solutions covering the entire printing, finishing and converting process, with a particular focus on packaging. Machines from Koenig & Bauer are capable of printing on practically all substrates – the portfolio ranges from banknotes to board, corrugated, film, metal and glass packaging, and includes book, display, coding, decor, magazine, advertising and newspaper printing. With a history extending back more than 200 years, Koenig & Bauer is the oldest printing press manufacturer in the world and is today at home in virtually all printing processes. Together, the group companies count a total of around 5,500 employees. Koenig & Bauer operates manufacturing plants at eleven locations in Europe, alongside a global sales and service network. The annual revenue in the 2022 financial year was around €1.2bn.
Further information can be found at www.koenig-bauer.com