Companies in the self-adhesive label industry have made a commitment to transform the industry towards a circular economy. The goal is to minimise waste and to ensure renewable resources are recycled in a sustainable and efficient way. In 2018 UPM Specialty Papers took the first step towards a circular economy by introducing UPM LinerLoopTM. UPM LinerLoop is a unique concept for recycling release liners; collected release liners are desiliconised and used to produce new release liner base papers.
To boost the collection of used release liners, UPM Specialty Papers has announced a cooperation with Cycle4green who specialises in recycling release liners. Since 2009, Cycle4green has formed a Europe-wide recycling service covering many labelstock manufacturers, label converters and end-users. In this cooperation model Cycle4green collects release liner base papers and transports the material to the paper mill for desiliconising.
"To help achieve zero-waste targets across the value chain, we need industry-level contribution to recovering release liners" says Jaakko Nikkilä, Executive Vice President, UPM Specialty Papers. "To date, efficient collection of used release liners has been the industry's biggest challenge to growing the share of recycled products in the market. We hope that our cooperation with Cycle4green sets an example for others to follow", Nikkilä highlights.
"At Cycle4green our goal is to grow the share of release liners that are recycled. Together with the help of UPM Specialty Papers' unique expertise in turning recycled release liners into new release liner base papers, we can help the industry fully close the loop and meet their sustainability targets" highlights Petri Tani, Managing Director, Cycle4green.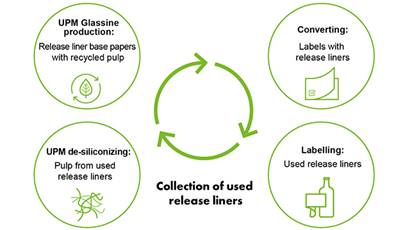 For further information please contact:
Jari Tamminen, Director, Growth Projects, UPM Specialty Papers, tel. +358405141268
UPM, Media Relations
Mon-Fri 9:00-16:00 EET
tel. +358 40 588 3284
media@upm.com
UPM Specialty Papers
UPM Specialty Papers produces labelling and packaging materials to global markets and fine papers to Asian markets. Its main customers are paper converters, distributors, retailers and printers. UPM Specialty Papers is an industry leader in sustainable development. Its high performance papers are produced in Finland and China. UPM Specialty Papers employs approximately 2,000 people globally. www.upmspecialtypapers.com
Follow UPM Specialty Papers on Twitter
UPM
We deliver renewable and responsible solutions and innovate for a future beyond fossils across six business areas: UPM Biorefining, UPM Energy, UPM Raflatac, UPM Specialty Papers, UPM Communication Papers and UPM Plywood. As the industry leader in responsibility we are committed to the UN Business Ambition for 1.5°C and the science-based targets to mitigate climate change. We employ 18,700 people worldwide and our annual sales are approximately EUR 10.2 billion. Our shares are listed on Nasdaq Helsinki Ltd. UPM Biofore – Beyond fossils. www.upm.com
Follow UPM on Twitter | LinkedIn | Facebook | YouTube | Instagram | #UPM #biofore #beyondfossils