Bringing together a team of experts, each of whom is a specialist in their dedicated field, to overcome a challenge may sound like the plot of a Hollywood heist movie. In this case though, it describes a successful co-creation project between a trio of companies – each a leader in their own field – from across the food packaging value chain in the pursuit of a novel high-barrier packaging solution, which can help protect food products with a long shelf-life. The longer the shelf-life the higher the demands are on the protective package to safeguard the food from moisture and oxygen.
Led by BOBST, a Swiss leader in machinery for packaging and label products, the multi-year co-creation initiative included UPM Specialty Papers and Michelman, a global speciality chemical manufacturer that offers water-based coatings for flexible packaging, paperboard and corrugated cartons.
Together, they used their technical expertise to develop oneBARRIER FibreCycle, which is a new high-barrier packaging solution that can be recycled in established recycling streams. oneBARRIER provides an alternative to the multi-laminate plastic structures often used for foods packed in sachets and pouches.
Co-creation developing packaging for the future
"Our sustainability strategy is focused on innovative and recyclable solutions for plastic laminates and fibre-based packaging. There is also a demand to develop sustainable packaging for the future, which is why this project with UPM Specialty Papers was very important to us," begins Nick Copeland, Research & Development Director at BOBST.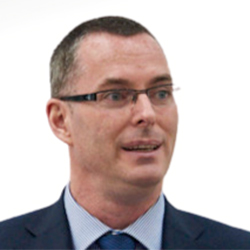 Nick Copeland
BOBST is actively involved in several collaborative projects involving stakeholders throughout the value chain. They began working with UPM Specialty Papers on this endeavour a couple of years ago because they see UPM as the global leader in the development of fibre-based substrates.
Copeland notes that UPM Specialty Papers' most important contribution to the project was providing technical expertise in the paper selection for this new application of high-barrier flexible packaging involving vacuum coating, which helps to provide an extremely thin, but highly functional inorganic barrier promoting layers.
Michelman was responsible for developing a novel, high performance oxygen barrier and metallisation primer, that also protects against mineral oils, oil and grease while providing a good print surface.
"UPM Solide Lucent paper was a strong basis from which to start the development and only required a few modifications. We supplied the AluBond and AlOx (aluminium oxide) technologies and Michelman produced the primary topcoat materials. Overall, the in-depth technical understanding we each brought to the table complemented one another," adds Copeland.
The unexpected benefits of co-creation
"By itself, our UPM Solide Lucent paper is not ready for end-uses where high barriers are required, so a major focus of the co-creation project was developing the coating layers. It's a long process, but functionality to protect the food inside is where it all starts. You must produce barrier values and performance that are fit for a long shelf-life food packaging material," says Janne Varvemaa, Director, Products & Technology, UPM Specialty Papers.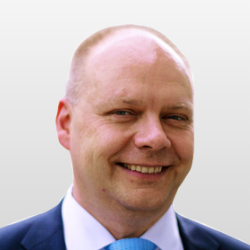 Janne Varvemaa


Fulfilling that functionality requires that the packaging meets the necessary water vapour and oxygen transmission rates, says Varvemaa. The challenge is finding the right combinations, right recipes and right chemistry for the surface properties, layer thicknesses and folding abilities, as well as securing product safety and getting feedback from shelf-life testing.
"It's then a matter of experimental design and testing. I can't even begin to guess how many different development versions there have been. It's been a natural evolution of technologies that fit well together. We were producing UPM Solide Lucent before we started working with BOBST and Michelman, but through this co-creation we discovered some new benefits," reveals Varvemaa.
The paper serves as an excellent base paper for further converting: the paper is very smooth, very dense and very strong, while its structure enabled a lightweight and uniform coating.
"The UPM Specialty Papers team did a fantastic job in the development of its UPM Solide Lucent paper. It serves as a solid foundation to build on," says Thierry van Migem, EMEA Sales Director for Michelman. The paper not only complements the primer to guarantee a high-barrier performance, but its high density and folding performance also secured functionality in the packaging value chain.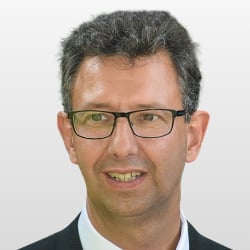 Thierry van Migem
The whole is greater than the sum of its parts
Solving complex sustainable challenges often arises from the relentless wave of new legislation and market disruptions, notes Van Migem. This opens opportunities to cooperate closely with industry partners to co-create and develop solutions that are better for our environment by improving the recyclability of packaging structures, for instance.
"By working together and not in silos, we are able to identify issues and adjust rapidly, promoting an agile way of working and improving speed to market," Van Migem points out. "Just as Aristotle said, the whole is greater than the sum of its parts. By uniting our respective expertise, the total performance of this oneBARRIER FibreCycle packaging solution is better than we could have achieved separately," he concludes.
Varvemaa is confident that this good experience will fuel future co-creation initiatives: "It was truly inspiring working together with BOBST and Michelman, who are true experts in their respective fields. I found the cooperation fruitful and open, with straightforward and trusting communications. I believe that together we managed to create a world-leading barrier solution that offers brand owners a packaging solution that is not only sustainable, but also delivers on functionality."
Copeland agrees, saying that his wish is for UPM Specialty Papers to continue supporting BOBST in the development of required paper solutions and to support a market moving towards a more circular and sustainable packaging environment: "In terms of future cooperation, we believe that fibre-based substrates may need to be further tailored, refined and optimised for the application of high barrier and vacuum deposition."
With an increase in the use of fibre-based packaging forecast by a new study conducted by consultancy firm Smithers and UPM Specialty Papers on sustainable food packaging in 2040, the likelihood of future co-creation opportunities between companies across the packaging value chain will become more commonplace.