From local manufacturers and private forest owners to international logistics and public energy providers, UPM works with over 21,000 b2b suppliers across the world. Not only chosen for the quality of their products and services, UPM also selects suppliers that align with its responsibility targets. In 2021, for example, 86% of UPM's total supplier spend was covered by the UPM Supplier and Third Party Code.
Yet, it's not just about picking professional partners, but being a professional partner, too. UPM works with its suppliers to continually improve their competitiveness, reduce risks, and encourage innovation. Through ongoing audits and performance management, UPM helps suppliers streamline their processes and ultimately improve sustainability across the entire supply chain. UPM's latest method? Equipping its professionals with new tools through professional training.
Enhanced audit training
Towards the end of 2021, eight UPM employees from Germany, Finland and China took part in a 5-day audit training course. Accredited by the International Register of Certificated Auditors (IRCA), the course used the international social accountability standard SA8000 as a baseline and was designed to help UPM's internal auditors improve social responsibility in the supply chain.
"The training consisted of two main learning objectives," explains Umer Khayyam, Training Manager at SGS, who delivered the training. "On one hand, we looked at social responsibility requirements and the core elements to verify, such as child labour, forced (bonded) labour, working hours, remuneration, freedom of association, discrimination, disciplinary practices and the SR management system. On the other side, we looked at the practical techniques and evidence gathering required by on-site auditors to verify these elements and ensure they fit with local law."
Blending a mix of workshops and break-out sessions, the training focused on the five key auditing areas – planning, preparation, audit conduct, reporting and follow-up – and discussed the requirements for each phase. According to Khayyam, this ranged from the detailed site observation, documents to verify, the people you should interview and the questions you should as, all of which can be accomplished by using various tools and techniques, e.g. the checklists to develop, sampling plans to use and type of evidence to collect.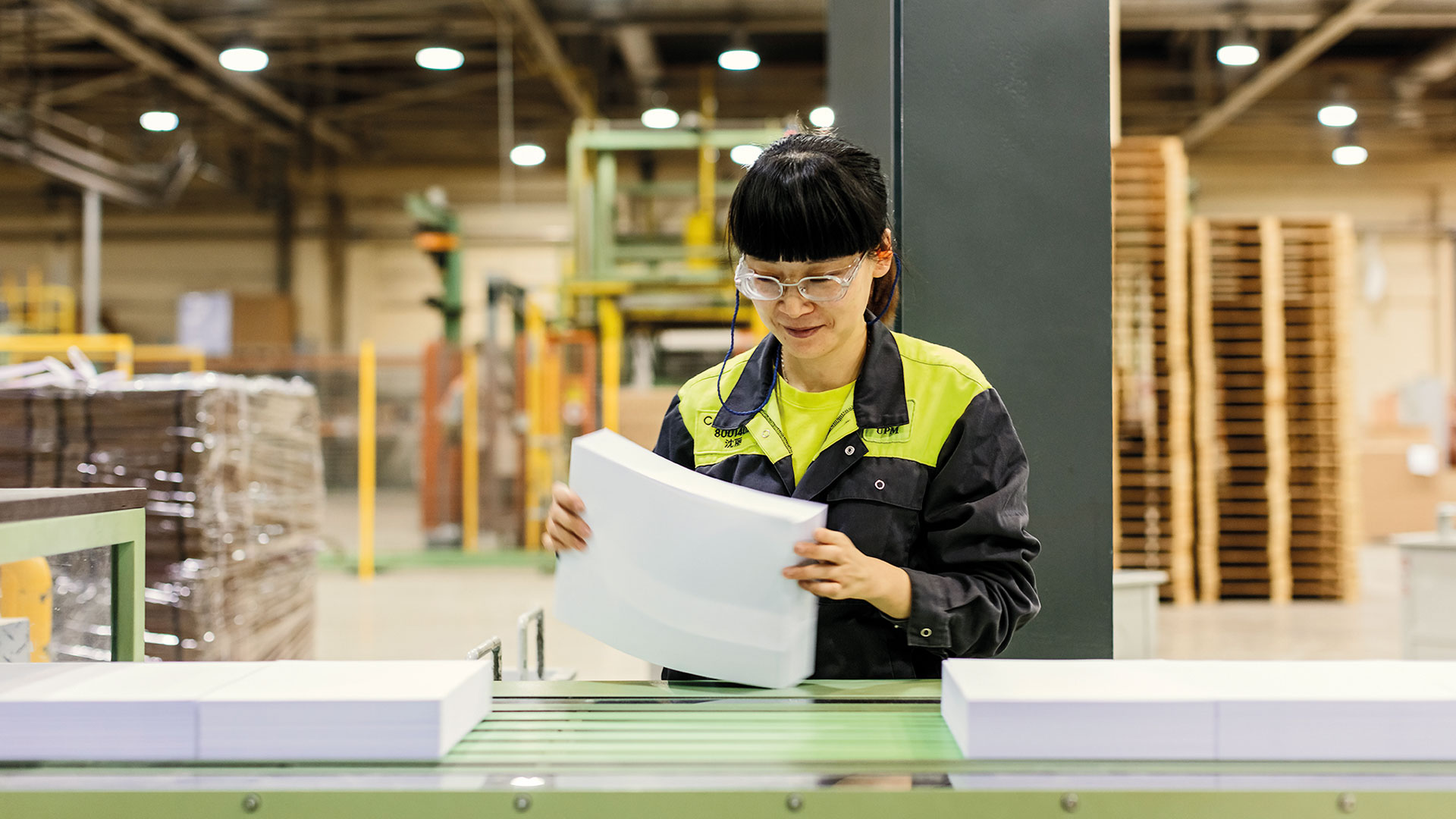 Auditors need to make sure companies are finding solutions and not neglecting issues.
Photo: UPM

Athina Michalakopolou, Senior Specialist of Supplier Quality and Sustainability at UPM Sourcing, took part in the training, noting the clarity it brought to a variety of auditing procedures. "When looking at what is expected from a company, the best working conditions, for example, it may seem black and white, but it's much more complicated than it sounds. For instance, no one wants to see forced or child labour, but what are the identifications? What is the remediation action? You need to ensure the company is not neglecting the issue, so when looking about the premises, you need to think about the people you meet and see – do they look young? Do you see kids? They could just be with their families, but then you need to ask how the company ensures they go to school."
Working together for a stronger partnership
No company is flawless and there is always room for improvement. That's why during the supplier audits UPM not only analyses suppliers' environmental and social performance but also promptly feeds back this information to the company and devises joint development plans for improvement.
"In 2021, we performed 124 supplier audits," says Michalakopolou, "choosing companies that are deemed critical in terms of country setting, supply chain complexity, commodity risk or even contract volume or significance. For each one, we're looking for continuous improvement. No one is perfect, but if they are willing to take action, that's important for us as if they get better, we get better."
Michalakopolou explains that at the end of every audit, UPM will immediately pinpoint the difference between the criteria and the actual practice – i.e., all the conforming elements and non-conforming elements - and come up with a corrective action plan within a specific timeframe. "We also identify good practises and congratulate the supplier too."
Professionalised auditing for a better future
Improving auditing capability might not seem like the biggest driver of supply chain sustainability, but by deepening the understanding of a product's lifecycle, audits can help plant the seed of best practice in the roots of the supply chain.
For Michalakopolou, an effective audit can be beneficial for the whole company and all the people involved, but they need to be carried out correctly. "The quality of the audits needs to be top-notch, and this training provided us with more structure and has made us more professional auditors. It provided us with practical information and helped us improve our ways of working to better suit cultural changes".
Moving forward, UPM will continue to work actively with initiatives like Together for Sustainability (TfS), which promotes sustainability practises in the chemical industry supply chain, and continuously develop its internal auditing team to lay the foundations for a more sustainable supply chain.
Main image: UPM