On a mission for responsible growth, Glasshouse Helsinki is an incubator for new ideas and a platform for art, design, fashion, and industry to unite their forces. As a home for sustainable innovation and ethical brands, Glasshouse Helsinki wants to encourage people to make better decisions, buy less and buy products that last.
"Our concept is based on responsibility. We search for partners with high criteria on sustainability, actors that work with circular production and companies who have experience with innovation," explains Anna Vartiainen, the chief communications officer at Glasshouse Helsinki.
Glasshouse Helsinki is situated in a historic former department store building at the heart of Helsinki on Aleksanterinkatu 13. Designed by Selim A. Lindqvist in 1900, the building itself was considered innovative beyond its time, Vartiainen says. The space consists of two stores and a gallery. The first one to open was concept store Lokal, which focuses on local, unique art and design products. The concept store Glasshouse Helsinki was opened in May 2021, and the second-floor gallery space became open to the public in the following month.
Since Glasshouse Helsinki is centrally located it provides a meeting place that is easily accessible. Glasshouse Helsinki wants to enable innovative encounters and be the interface and the energy for change with different stakeholders.
"The change is inevitable and needed, and we are taking steps towards that direction. With this platform, we are opening new doors for designers, artists, creators, and companies to collaborate," says Vartiainen.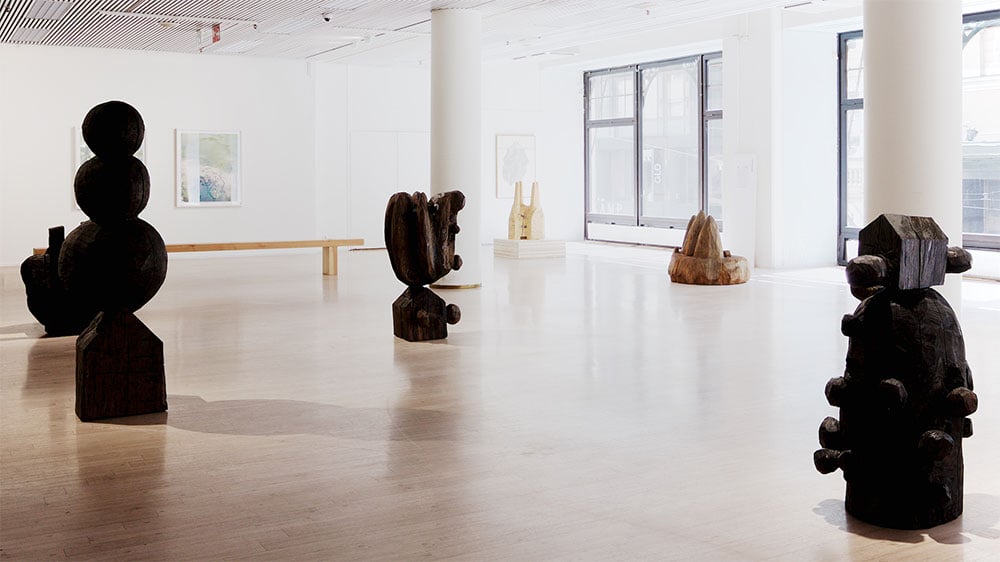 In the gallery space, one can find a dress installation, sculptures, and even a Japanese sea monster. Photo: Glasshouse Helsinki
The vision behind the store
Responsible innovation can also be found in the interior, which was designed by industrial designer Ville Kokkonen and architect Florencia Colombo. Driven by sustainable development, new materials, and technologies, Kokkonen has collaborated with UPM on several occasions over the years, especially in his role as the Design Director at Artek.
"UPM and Glasshouse Helsinki are interesting partners to collaborate with. UPM has a long history of developing biomaterials and Glasshouse Helsinki's idea of sustainability and fostering innovation fits the bill," says Kokkonen.
During the 'Fashion in Helsinki 2021' event, Glasshouse Helsinki was celebrating the new Vallila collection by designers Rolf Ekroth and Wataru Tominaga through an installation designed by Kokkonen and Colombo.
The installation comprised of 3D-printed mannequins made from UPM Formi 3D material was displayed in the store window. Kokkonen and Colombo had previous experience using an LSAM (Large Scale Additive Manufacturing) printer head and decided that it would work with the Glasshouse Helsinki project as well. The 3D printing process was carried out in collaboration with Savonia and Tampere University of Applied Sciences.
"Working with LSAM allowed us to speed up the printing process and print on a much larger scale than would have been possible with a regular 3D printer," explains Kokkonen.
The store's interior is full of interesting details, such as granite boulders and CLT (Cross-laminated timber) display tables. Besides the installation, UPM materials are also used in the shelves designed by Finnish brand Puustelli and in some of the store's display tables which are made from pulp bales – large bundles of UPM pulp sheets.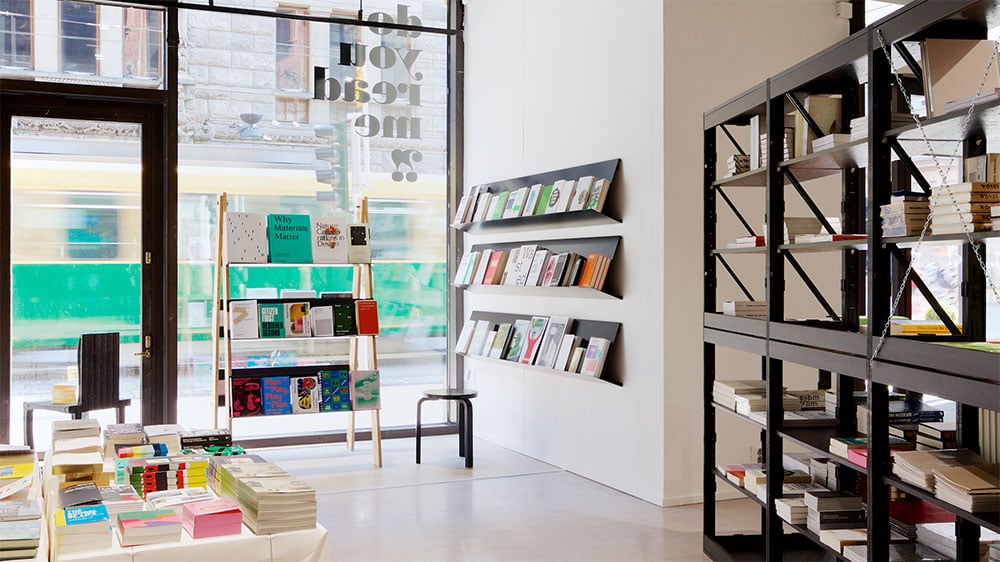 Several of the store's display tables and shelves are made from UPM materials. Photo: Glasshouse Helsinki
How does industry fit into the picture?
Ideas around sustainability and circular economy are at the core of both UPM and Glasshouse Helsinki. According to Hanna Maula, Vice president, Communications & Brand at UPM, the company has for a long time been following the trends in sustainable consumption. Therefore, collaboration with Glasshouse Helsinki felt natural.
"Renewable and recyclable UPM materials and products made from them fit well with Glasshouse Helsinki's concept. Sustainable development is our common goal," says Maula.
UPM has a long tradition of promoting the arts. Designers, on the other hand, make important decisions regarding product responsibility, such as the choice of materials used. Because of this, sustainable design is an especially interesting topic for UPM.
"We are trying to create a future beyond fossils. Renewable and recyclable materials play an important part in the making of and consumption of sustainable products and services," states Maula.
Innovation and collaborations between different sectors bring sustainability goals into focus and can inspire other industries as well as individuals.
"We want to be part of facilitating the implementation of innovations on the grassroots level. Together we are making leaps towards a sustainable future," says Vartiainen.
Text: Sini-Maria Melanen